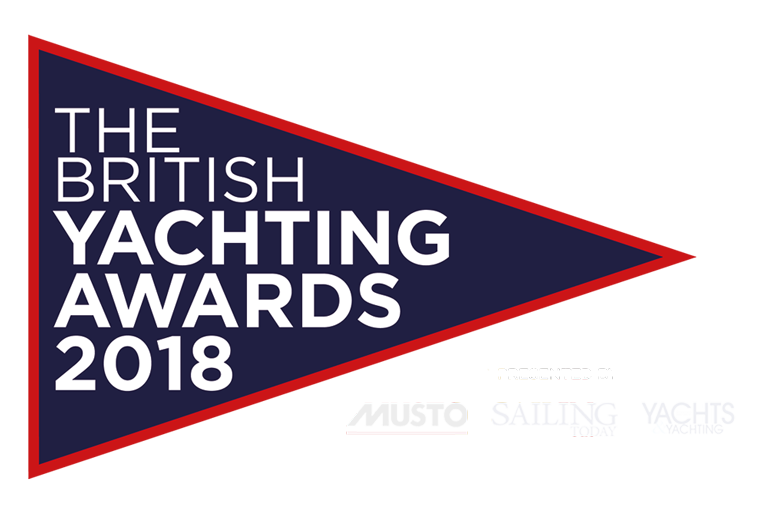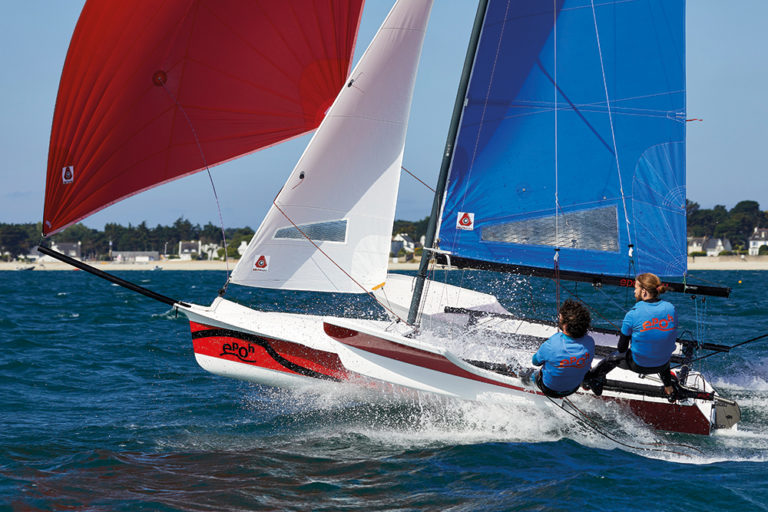 Epoh
We were intrigued when we first saw the concept for this training skiff, penned by French designer Yannick d'Armancourt. He designed the boat to fit the French dinghy market, which focuses on both fun family sailing in addition to competition. D'Armancourt wanted a boat that could introduce French dinghy sailors to skiff sailing but with more form stability than found in a usual skiff thus providing a training class.
When we finally got the chance to sail the boat earlier this year it proved great fun to sail, delivering the all-out thrill of high performance sailing yet without ever feeling unsafe or even likely to capsize. A number have been sold in France and interest from a variety of sailing schools shows the innovative concept has legs beyond the French domestic market.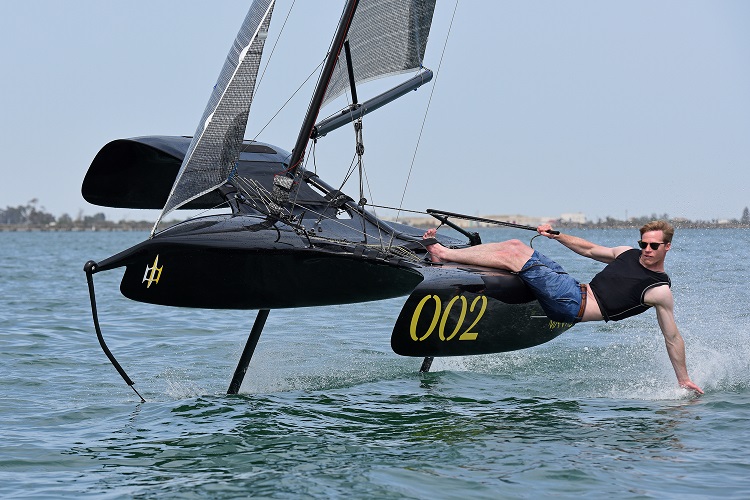 Flying Mantis
The Flying Mantis – from British designer Jamie Stewart – offers foiling for mortals by creating form stability via two floats/extra hulls. This 14ft lightweight carbon trimaran can also be sailed with a regular rudder and daggerboards, depending on conditions, and can accommodate taller and heavier sailors up to 120kgs.
That the boat can be effectively sailed in a non-foiling configuration sets it apart from other new foiling classes. This then, should provide encouragement to those that want a high performance singlehander but who are nervous that taking the plunge and buying a foiler could be money thrown at a boat they might never master.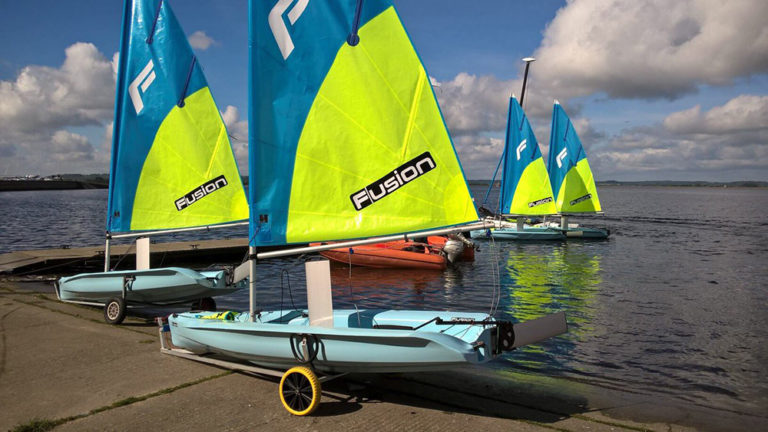 Fusion 2
Since its launch back in 2015 the Fusion has received a number of plaudits for its clever and versatile design. Many of its best features are hidden from view and thus may go unnoticed – as is often the case with clever designs. The hulls stack together with recessed deck fittings allowing for more boats in a smaller space, and the mast step runs through the whole hull thus automatically washing any sand out of the step and preventing long-term wear.
Now, with the boat having proved very popular in both single and double handed versions, designers Glen Truswell and Dan Holman of Fusion Sailboats have added a new gennaker option, turning this boat into a true all-rounder, and providing a reasonable race option should be the boat be purchased by clubs, etc.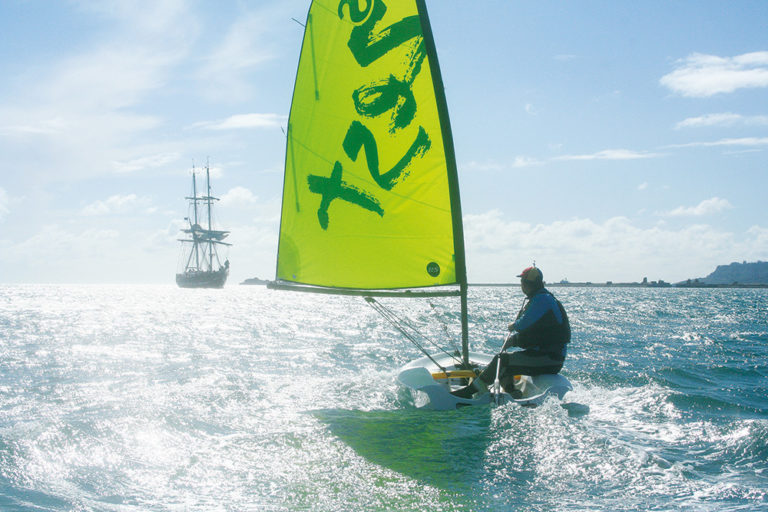 RS Zest
The latest offering from popular manufacturer, RS, is the Zest, the newest addition to the company's range of training boats. The hull is a rotomoulded polyethelyne construction, which should mean it is easily robust enough to deal with the knocks and dinks that are often to be expected when learning.
The Zest can be rigged as a single hander but also has a two-sail two-person option, too. Here the design team have gone to great lengths to make the boat feel like a two person boat (rather than a singlehander able to carry two), incorporating a small thwart so a crew is not perched on the floor in what is, ultimately a boat that is small enough to be sailed solo by a child.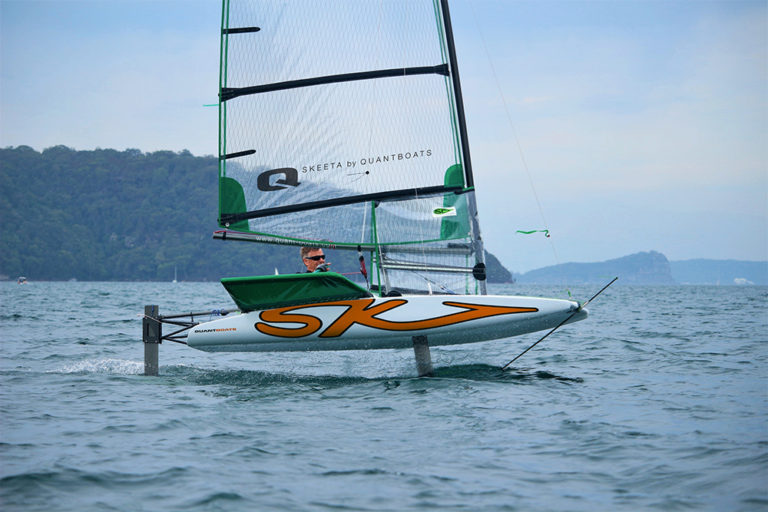 Skeeta
The Skeeta is a modern foiler designed to appeal to all abilities. This Australian design features a carbon rig and unsinkable hull with retractable foils, blending performance with stability. The builders say its unique foil control system reduces crashing whilst still retaining performance and controllability, making it one of the most versatile single handers around.
The Skeeta was designed, developed and manufactured by Skeeta Foiling Craft in Melbourne, Australia. The main concept was to create a safer boat suitable for everyone to sail. The Skeeta can be sailed in displacement mode, as a fun planing boat, or clip the hydrofoils on and you have a fully foiling boat, which promises exceptional performance. The boats will be available in Europe from Quant Boats AG.